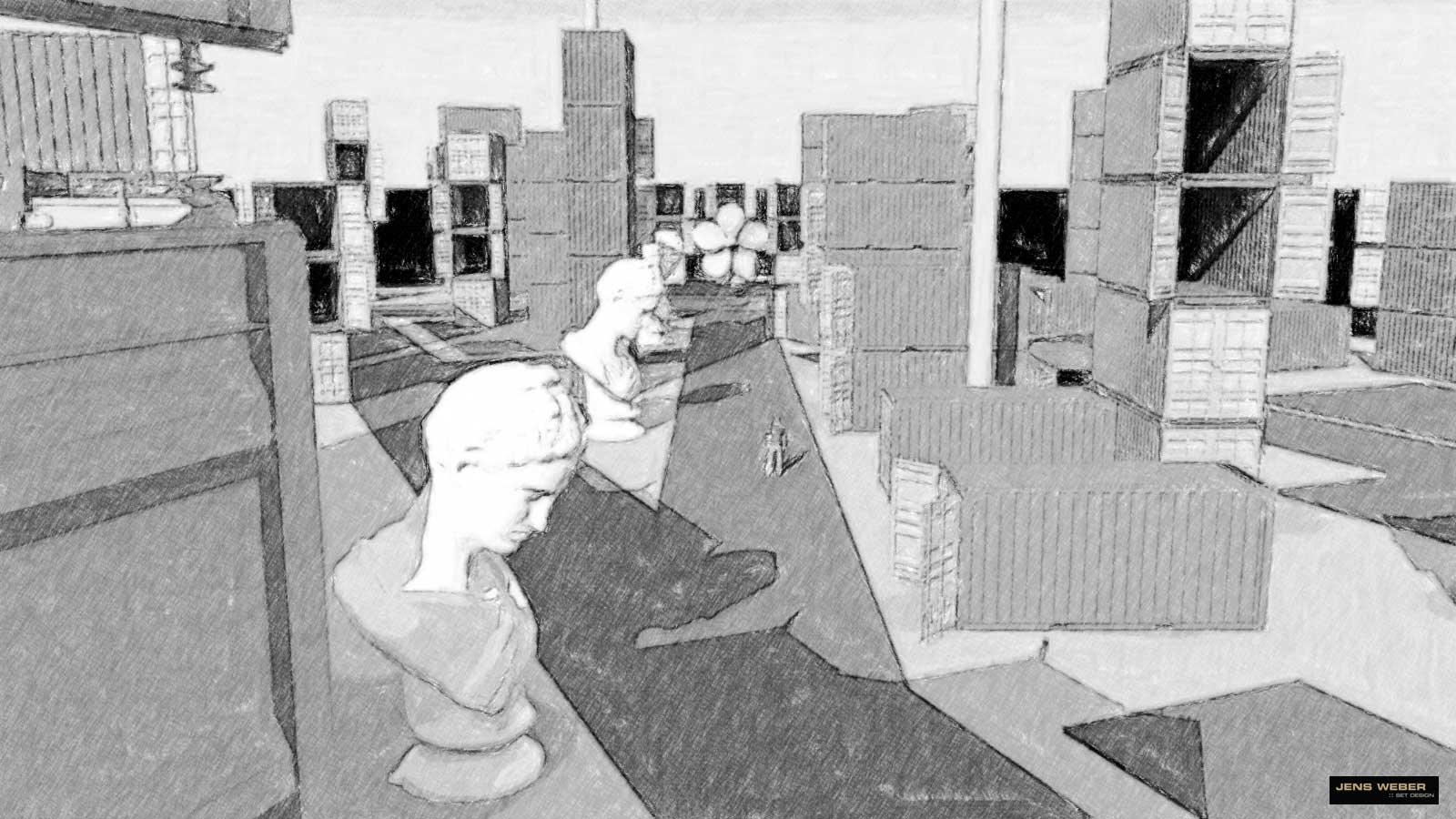 Outlook // PHOTOPIA Hamburg
Blazing New Trails
A Promising Fusion of Festival and Expo – Four Days Live and 365 Days Online
Enthusiasm is born when we experience something special and share it with others. At events that get people involved – both offline and online. For this reason, PHOTOPIA Hamburg relies on the synergy of three conceptual building blocks: PHOTOPIA Summit, PHOTOPIA City, and PHOTOPIA 365.
Broad vistas and street layouts with spectacular photo subjects, parklike green spaces, and two large stages for photographers and influencers: the PHOTOPIA Summit in the Hamburg exhibition halls creates an attractive setting for the new festival of the imaging community, which features the motto of #shareyourvision. With its innovative hall concept, the project team creates a pioneering installation made up of around 350 shipping containers spread across 20,000 square meters and two halls that plays with perspectives, shapes, and figures – an entirely new trade fair experience for exhibitors and visitors alike. "We want to create an atmosphere that inspires and excites people, that makes them want to take pictures and videos. In doing so, we are guided by the example of modern metropolises and build our own city with streets, stores, stages, and a park. The containers are from all over the world, and they are an homage to Hamburg as a port city, thus making it a gateway to the world," says stage and set designer Jens Weber, explaining the hall concept that he helped develop along with the PHOTOPIA team.
The containers stacked on top of each other are modified in many different ways, so exhibitors can use them as an extension of their booths or as a meeting room. Other containers show photographs, for instance of the renowned fashion photographer Ellen von Unwerth, who has taken on the patronage for PHOTOPHIA Hamburg. "With PHOTOPIA Hamburg, we are purposefully breaking new ground and appealing to film and photography professionals and smartphone users who use their phone for recording, processing, and sharing photos and videos in equal measure. We actively involve them all, as well as the exhibitors, in setting the scene," says Melina Paeper, product manager of PHOTOPIA Hamburg.
While PHOTOPIA Summit – with its wide range of installations, workshops, conferences, and master classes – brings together products and services as well as trends of the imaging industry under one roof, the new event format under the label PHOTOPIA City takes photography to the public sphere. Exhibitions and photo walks throughout the city are a continuation of the hall concept with containers that are set up at different locations around Hamburg. Hamburg has been one of the most important centers of photography in Germany for years. With the international House of Photography at the Deichtorhallen, the media metropolis offers major publishing houses, renowned museums, and countless creative photo galleries an environment that could not be more perfect for a festival of photos. After all, as an online platform, PHOTOPIA 365 brings the community together throughout the entire year, providing them with current topics having to do with the trending topic of imaging.
Various players from the entire spectrum of the imaging sector are among the exhibiting companies, along with numerous start-ups. PHOTOPHIA Hamburg appeals to all visitors for whom photography and film are their passion and their business. In addition to retailers, professionals, and hobby photographers, this specifically includes smartphone users who use their phones to record, edit, and share photos and videos.
"The positive response shows that PHOTOPHIA Hamburg has really struck a nerve and that it has a lot of potential," says Melina Paeper.
Working as Part of an Agile Team
The trade fair company also paved new ways in the composition of the team for PHOTOPIA Hamburg. Events and the associated challenges are changing – and so are the work processes that come with them. Employees of Hamburg Messe und Congress were able to apply for a spot on the organization team as part of an internal application process. The collaboration of the PHOTOPIA team is characterized by maximum self-determination, direct communication, flat hierarchies, responsibility, and agile elements.
Our team for PHOTOPIA Hamburg (from left to right): Melina Paeper (product manager), Mareike Kitsch (sales manager), Katja Löwe (festival and summit manager), Julia Lau (marketing communication manager), Christian Freitag (PR manager), Christian Popkes (curator), Alisha Lauter (365 days online platform manager), Ines Leksani (operations manager) © HMC / anatol Kotte