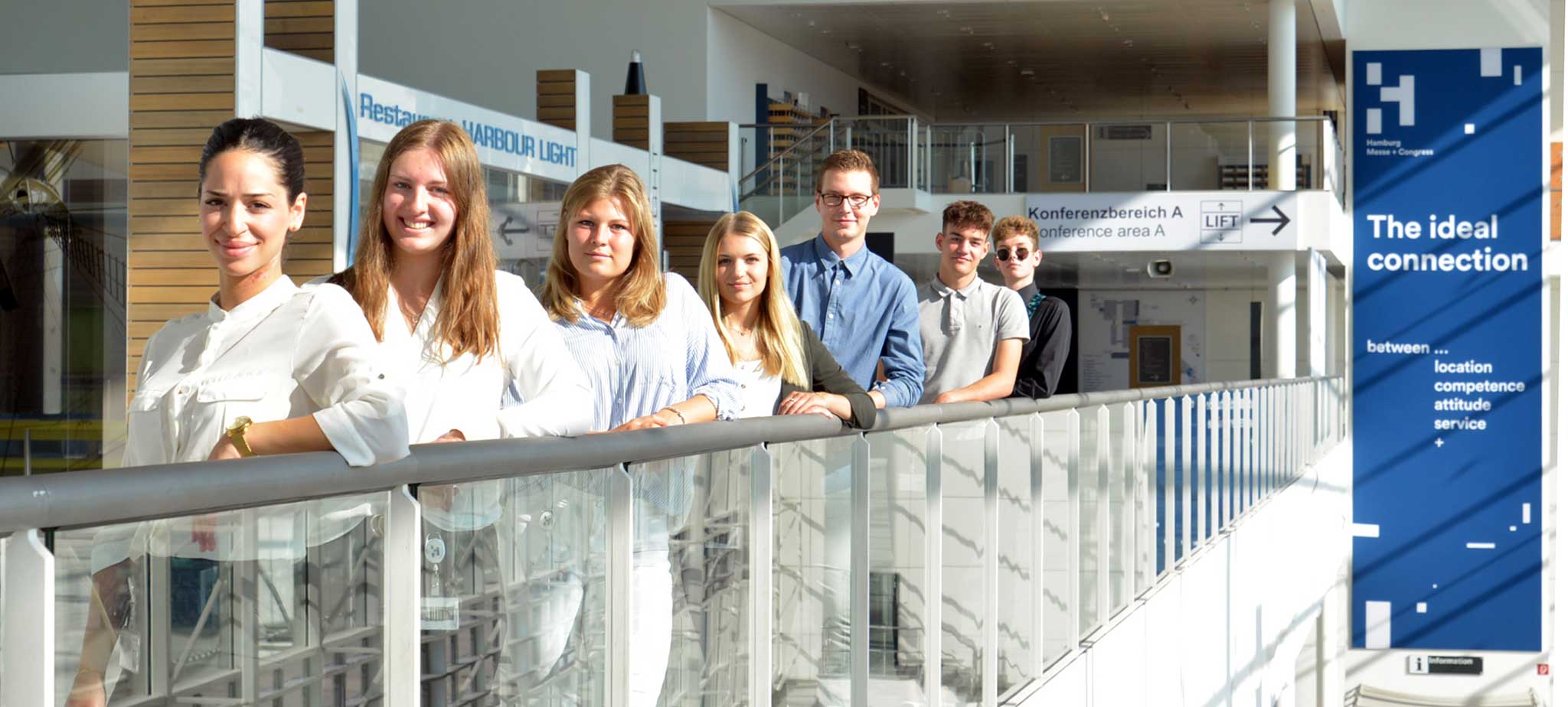 Insight // Training Ensures the Future
"I Don't Even Understand the Question"
An aspiring event manager describes what it means to spend the majority of your first year of vocational training working from home.
Niels Borkenhagen began his vocational training to become an event manager in August 2020 – and the 20-year-old Lübeck native has only rarely been in the office since then. A conversation about commuting, "virtual" colleagues, and what soccer and trade fairs have in common.
Niels, you started your vocational training during the coronavirus pandemic. How often have you been in the administration building since then?
During the weeks of onboarding in August, it was still possible to be on-site, so people got to know the trainees in person. Then I was in sales support with just one other person in the office. There were a few other offices with a maximum of two people, but I really only ever encountered them during videoconferences. To this day, there are still some that I only know from stories. We've been working from home since the end of October, so I've only been in the office five times in five months.
How are you handling that?
We had hoped back in September that things would get going again. Then, when the lockdown in November came, I thought that four weeks might not be enough to really break the wave of infections. But I didn't expect it to take this long. What I miss most while working from home is that feeling of leaving work at the office and calling it a day. I usually would turn off the light, lock the office door, and take the train home. But here I'm still in the middle of everything; there is no separation – I turn around in my chair and I'm at home.
Niels Borkenhagen, trainee at HMC
"My friends often ask me if I feel like the concept of a trade fair is still viable, with everything having gone digital. To be honest, I don't even understand the question!"
What have you missed the most up to now?
My commute between Lübeck and Hamburg: on the way there, I had the feeling that I had something to accomplish and, on the way home, that I had accomplished something. Commuting is great and divides the day into work and free time. At the moment, I replace my commute with a jog or working out, so I have some structure.
Do you feel like you're missing out on part of your training?
I thought at the beginning, "OK, now I'll learn the basics." But now I'm starting to worry more that, at some point, I will lack the practical experience. It's high time that I oversee real events and not just enter booth registrations into the computer system that, a few weeks later, just have to be deleted anyway.
Did you have any second thoughts about your career choice?
My friends often ask me if I feel like the concept of a trade fair is still viable, with everything having gone digital. To be honest, I don't even understand the question! It's most easily understood using the example of a soccer game: it's a totally different experience to watch a game on TV versus live in the stadium. The difference is even more extreme for trade fairs.
You can find a video on training under coronavirus conditions here.
The video is only available in German.
Highest Honor for Training at HMC
With its induction into the Hall of Fame of the best training companies in the city, Hamburg Messe und Congress GmbH was honored – at the end of 2020, a year dominated by the pandemic and lockdowns – with an outstanding award for its high-quality training for decades. At the end of the year, it was named one of Hamburg's best training business in 2021. HMC had already received this distinction in 2012, 2015, 2017, and 2019, which ensured its induction into the Hall of Fame with its fifth title.

"Hamburgs beste Ausbildungsbetriebe" – "Hamburg's best training companies," a competition that is based on an academic study – was developed by HR expert Professor Werner Sarges, who surveys, among others, the trainees of the participating companies as well as the employees of those companies responsible for trainees. So the high level of satisfaction of entry-level employees of HMC with their training also contributed to the high marks.
Bernd Aufderheide, President and CEO
"It's important to us to enable young people to successfully enter the professional world by offering them qualified training programs," says Bernd Aufderheide. "And we are pleased that we are living up to this expectation in the eyes of our trainees as well."
Each year, Hamburg Messe und Congress offers six or seven spots for aspiring event managers, event technology professionals, office managers, and the two dual-study bachelor's degree programs – a Bachelor of Arts (B.A.) in business administration for trade fair, congress, and event management and a Bachelor of Science (B.S.) in business informatics – so the average number of trainees employed in the company is always more than 20. These spots are highly sought after: between 200 and 400 applications are sent in to the HR department every year. Exciting tasks, flexible working hours, and their own projects are waiting for those who receive a spot.
Andrea Miller, trainee supervisor at HMC
© HMC